It were busy weeks for Laurens, prior to and during the 68th edition of CHIO Rotterdam.
As sporting director, he was present every day at this prestigious international event and he made sure everything ran smoothly.
He also gave an educative demonstration in collaboration with freestyle-producer Joost Peters. For this show he had taken Liebling with him to Rotterdam. The 12-year-old gelding (v. Lortino) showed the audience togheter with Laurens and Joost how important it is to only use music that is perfectly suitable when riding a freestyle.
Owner Peter Jaegere was also present at the CHIO to admire his horse as well as the team of LvLDressage.
It was a successful event for Laurens!
Photo: Chris Coessens Photography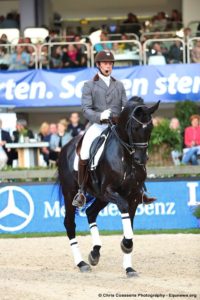 Click here to see a small clip of the show
https://www.facebook.com/ventepaardenvoeding/videos/1069102883157304/